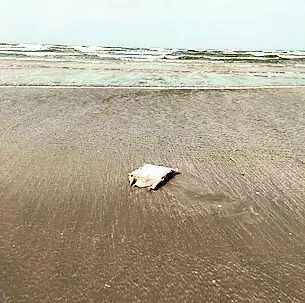 Ahmedabad: The Border Security Force (BSF) on Wednesday said that they have recovered a packet of heroin weighing a kilogram, which washed ashore near Siyari Creek off Jakhau coast in Kutch.
"On August 23, in a special joint search operation, BSF along with Marine Police Jakhau recovered one packet of heroin, weighing approximately 1 kg from Siyari Creek about 11 km off Jakhau coast," BSF said a statement.
BSF has launched an extensive search of the isolated bets off Jakhau coast in Kutch after the recovery of the drugs. The statement adds, "Since mid-April 2023, BSF recovered 91 packets of Charas and 11 packets of Heroin off Jakhau coast."
Recovery of drug packets has been constantly reported off Gujarat coast as the state is used as a destination for the transit of drugs.
"The packet found near Siyari Creek might have been dropped from a ship or boat carrying a huge stock of drugs," said a BSF officer.
Earlier in May, BSF had recovered three packets of heroin from an isolated island near Jakhau. The packets weighing 1 kg each were found on the shore at Luna Bet, about 12 km from Jakhau.
Apart from Charas and heroin packets, BSF also recovered two packets of amphetamine since mid-April. In July 2020, eight packets containing 5.8kg of charas were discovered near Jakhau by a preventive team of Kandla Customs.