PRAYAGRAJ: A special MP/MLA court on Tuesday
sentenced to life term former SP MLA and MP Atiq Ahmed
for kidnapping and torturing then zila parishad member Umesh Pal in 2006. It, however, acquitted Atiq's brother Khalid Azim and six other accused, saying the prosecution "failed to prove beyond reasonable doubt" their alleged complicity in the conspiracy.
Special judge Dinesh Chandra Shukla fined Atiq and the other two convicts – Dinesh Pasi and Saulat Hanif, a lawyer – Rs 5,000 each, besides ordering them to pay Rs 1 lakh each in compensation to Umesh's family. Failure to comply would invite an additional jail term of two months.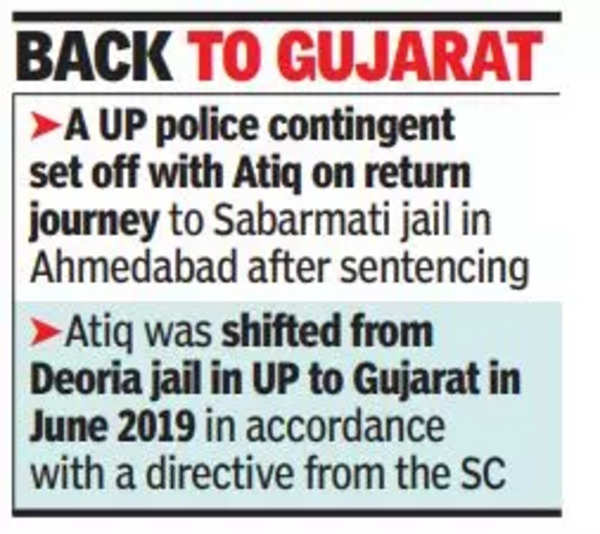 "The convicts forced him (Umesh) to give a favourable testimony in favour of the accused (in the MLA murder)," the court said. " Hanif had a paper in his hand wherein was written a statement proving Umesh Pal had been forced to retract his testimony and turn hostile in the (MLA murder) case. It all hurts the entire judicial system and shakes the confidence of people in the judicial system."
The trio was convicted under Section 364A of the IPC, under which the maximum sentence is capital punishment. For Atiq, the conviction is his first from among 52 cases that have gone to trial so far, including the one where almost his entire family stands accused of plotting Umesh's death in a gun attack in Prayagraj on February 24 this year.
"I have respect for the judiciary, but saza galat hui hai (the punishment has been wrongly dealt). I intend to appeal the verdict in the HC," Atiq said while being brought out of the court. Meanwhile, Umesh's mother Shanti Devi said she had "full faith" in the country's judiciary, but expressed apprehension that Atiq "can do anything even from jail". "I request the court to award him capital punishment for getting my son killed," she said, alluding to the case pertaining to her son's murder.
Hours after the sentencing, a UP police contingent set off with Atiq on the return journey to Ahmedabad's Sabarmati jail, from where they had brought him for Tuesday's hearing. Like Atiq, who travelled 1,300km in a six-vehicle police convoy to reach Prayagraj's Naini jail on the eve of the court's verdict, his brother Khalid had been escorted from Bareilly jail to the city for the hearing. Naini jail's senior superintendent Shashikant said Khalid, too, was being taken back to Bareilly prison. 01:49
Atiq Ahmed gets life sentence in Umesh Pal abduction case: Mafia don's journey from crime to politics and jail
SC junks Atiq plea for protection while in UP cops' custody
The Supreme Court on Tuesday refused to entertain Atiq Ahmad's plea for protection to his life while being in custody in UP. As Ahmad's lawyer made an impassioned plea before a bench of Justices Ajay Rastogi and Bela M Trivedi that his life was at stake and a word from the bench could protect his life, the court said, "State is bound to protect you." It also allowed him to approach the HC to raise his grievances.
Watch Atiq Ahmed gets life sentence in Umesh Pal abduction case: Mafia don's journey from crime to politics and jail