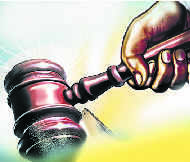 Prayagraj: Acting on an application of Khalid Azim alias Mohd Ashraf, brother of mafia don-turned-politician Atiq Ahmed, the chief judicial magistrate (CJM), Prayagraj on Saturday directed the police commissioner, Prayagraj to comply with the directives of Allahabad High Court dated March 21 regarding protection of the life of Ashraf.
In its decision dated May 21, a division bench of Allahabad High Court, while hearing a writ petition filed by Ashraf, apprehending threat to his life, had directed the state government and its authorities concerned to protect the life of the petitioner and also to ensure his safety and security in the transit from Bareilly jail to Prayagraj.
According to district government counsel (criminal), Gulab Chandra Agrahri, today (Saturday), an application was moved on behalf of Ashraf before the CJM requesting him to get the directives issued by the high court in its decision dated March 21 be complied with.
The CJM directed to place this decision before the police commissioner, Prayagraj, asking him to ensure compliance of this decision of the high court regarding security of Ashraf.
Ashraf, along with his brother Atiq, is an accused in Umesh Pal murder case, which took place on February 24, 2023, and is at present lodged in Bareily jail of Uttar Pradesh.
At one stage, an application was moved by station house officer of Dhoomanganj, Prayagraj, Rajesh Kumar Maurya, stating therein that Ashraf is a dreaded criminal and has prima facie been found to be involving in conspiracy in Umesh Pal murder case, which is registered as case crime no.114 of 2023 at police station Dhoomanganj under sections 302 (murder), 120B (conspiracy) and other sections of Indian Penal Code (IPC).
In this backdrop, the SHO, who is also investigation officer (IO) of this murder case, requested the court to issue B warrant (production warrant), as according to him the physical presence of Ashraf is required in this case. Ashraf is at present lodged in Bareilly jail.
Accepting his request, the CJM on March 23 had issued B warrant (production warrant) permitting the investigation officer (IO) to bring Ashraf before the court of Prayagraj from Bareilly jail.
B warrant is a production warrant. In case, any person is already lodged in jail and his presence is necessary in any subsequent case, then the investigation officer concerned will move an application before the court for issuance of B warrant against the person concerned.
The court may make an order requiring the officer in charge of the prison to produce such person before the court for answering to the charge or for the purpose of such proceedings or as the case may be, for giving evidence.