NEW DELHI: There was a big spike in cases under the Arms Act in 2022 compared with 2021. There was also an increase in the arrests of people with firearms in the city last year, though there was a 9% decrease in the recovery of firearms.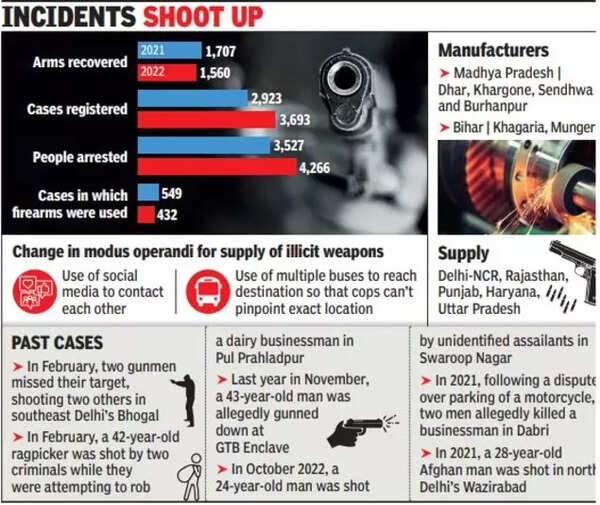 Delhi Police data accessed by TOI shows that as many as 4,266 people were arrested for illegal possession of firearms or violence involving guns last year, when in 2021 a fewer 3,527 had been arrested. Correspondingly, 3,693 cases under the Arms Act were registered last year against 2,923 in 2021, a rise of 26%.
A police officer said normalisation after Covid-19 possibly explained why arrests and Arms Act cases went up last year. "In 2021, there was the Covid effect in the first few months that cooled down the illegal arms business. As soon as things started returning to normal, the traffickers once again resumed supplying weapons," the officer said.
The data, however, showed a decrease in the recovery of firearms. Against the 1,707 firearms confiscated in 2021, last year just 1,560 were recovered.
An officer said the makers of illegal weapons and their purchasers were employing social networking applications to contact each other and to dodge the cops. "After collecting the consignments of firearms, these traffickers change buses on the way to their destination. This is to ensure that cops are unable to pinpoint their locations," the officer said, who also revealed that the traffickers purchased weapons from makers in Madhya Pradesh and Bihar before marketing them to gangs and criminal elements in Uttar Pradesh and Delhi-NCR, including Haryana.
"We have also found that criminals in Punjab and Rajasthan are in direct contact with manufacturers in MP and Bihar. Earlier they depended on middlemen for the supply of weapons," the officer said. "We have found that the criminals mostly use firearms for snatching, robbery, carjacking and in extortion bids."
There was also a decrease in the number of cases in which firearms were used for crimes. Last year, criminals used guns in 432 cases, against 549 in 2021. "During a meeting of the Delhi Police brass, the deputy commissioners of police were asked to check crime in which firearms were used," the officer said.
Delhi Police PRO Suman Nalwa said several efforts have been taken to curb arms trafficking and incidents involving firearms. In addition to police action, legal action too was initiated against criminals involved in the supply of firearms in the city, Nalwa said. The cops keep regular watch on them. "We also maintain close coordination with and take the help of police of the adjoining states to disrupt the supply of illicit firearms," the officer said.