MUMBAI:
Maharashtra
reported nearly 700 fresh Covid-19 cases on Thursday, the highest single-day detection in over five months. The significant jump in infections has pushed the count of active cases in the state beyond the 3,000-mark, which doubled in just nine days.
The state health department has asked districts to ramp up testing to identify positive cases and isolate them. Maharashtra reported 694 cases on Thursday, up from Wednesday's tally of 483. The last time the state reported close to 700 cases was October 27, 2022, when 972 cases were registered. No deaths were reported on Thursday.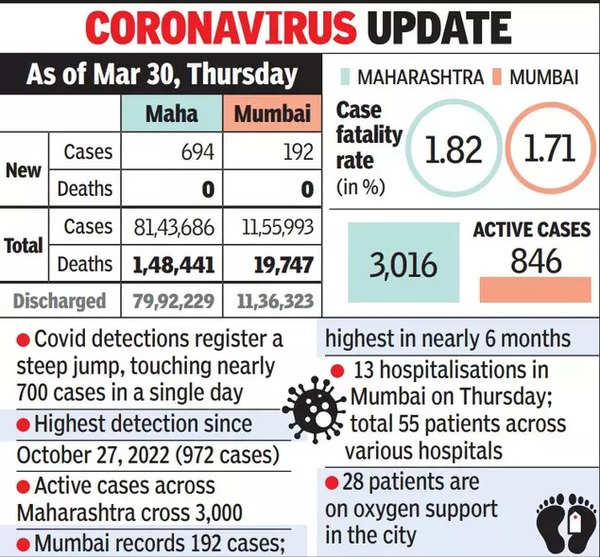 Several districts have recorded a positivity rate of over 10%, including Mumbai whose positivity rate on Thursday was 12%. The city reported 192 new detections, bringing the count of active cases to 846. For the sixth day, hospital admissions (13) were in double digits.
'Cases rise, but Covid is self-limiting now'
A total of 13 people got hospitalised in the city on Thursday due to Covid-19, taking the number of total patients to 55. Of these, 28 are on oxygen support. Despite the rise in cases, the rise in hospitalisations hasn't been significant, doctors said. Dr Vasant Nagvekar, an infectious disease expert, said: "There is certainly a rise in cases, but in most instances, Covid-19 is self-limiting." Dr Nagvekar cautioned patients only when the fever persists beyond 72 hours.
Dr Rajas Walinjkar, physician at SevenHills Hospital, said oxygen requirement is mostly in the elderly with other additional health ailments. Mumbai currently has more active Covid-19 cases than Pune, 846 and 773, respectively. Within the Mumbai Metropolitan Region, Thane, Navi Mumbai, Panvel and Raigad have also been reporting a surge in active cases, though there have been no deaths. More than 15 districts have cases in single digits.