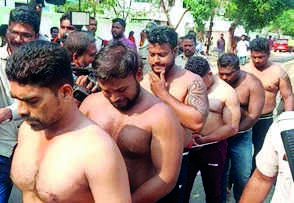 Bhubaneswar: The commissionerate police on Thursday busted a gang of "bahubali" bouncers on charges of interfering in property-related disputes in the capital city and giving possession of disputed land or houses to people after taking money from them.
While seven bouncers with criminal antecedents — Nakula Mahakud, Asis Jena, Dipak Kumar Das, Laxmikant Das, Rajesh Kumar Patra, Pradeep Kumar Baliarsingh and Asish Kumar Ray — have been arrested, a manhunt has been launched to arrest other absconding accomplices.
The accused, supported by around 150 people, including women from a nearby slum, ransacked and robbed two shops before demolishing them by a bulldozer on the intervening night of March 24 and 25. The incident occurred barely 200 metres from Nayapalli police station, leaving the police red-faced.
"We found that the bouncers were hired by a man, who had a legal dispute on the ownership of a land on which some shops were constructed. The man wanted to grab the land and hired the bouncers to get the property vacated. The accused razed two shops by using a bulldozer and looted the valuables," deputy commissioner of police Prateek Singh said.
The DCP said the gang's modus operandi is to forcibly vacate disputed property by threatening the occupants. "We strongly suspect their involvement in several other land disputes. In this particular case, the accused hired many women and men from a nearby slum, transported them to the disputed property site in buses and asked them to throw out the articles from the shops. We will take action against those who supported the crime," Singh said.
The DCP said they have received information about similar operations by five other gangs in the capital.