NOIDA: The extent of the city's flat registry stalemate, as many homebuyers find themselves unable to get deeds for their properties because of the standoff between builders and the government on dues, is evident from data uploaded recently by the Noida Authority on its website.
It shows that of the 1.3 lakh flats sanctioned in 115 projects in the city till 2016-17, only 56,790 (around 40%) are registered. Of these 115 projects with approved plans, 89 (77%) are defaulters and collectively owe Rs 26,000 crore in dues. Only 24 projects have paid all their dues while two have been cancelled. But even among the 24, only 15 have received completion certificates, which is a mere 13% of all projects sanctioned in the city that was once famous for its real estate boom.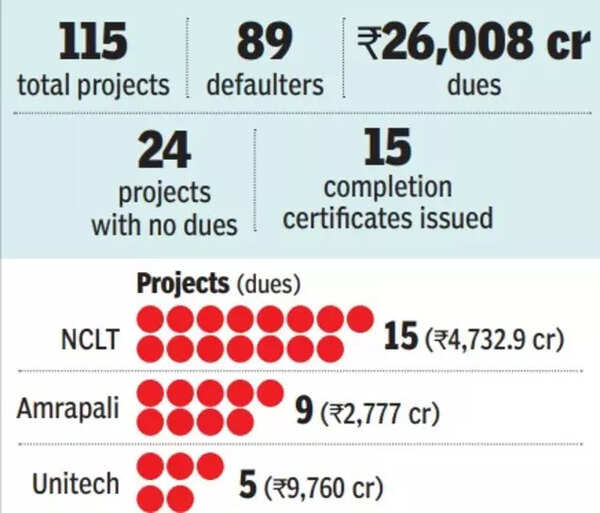 A completion certificate is issued when all amenities are completed and licence conditions are met. With protests being staged in one society or another on weekends for amenities that are unfinished or fall short of the original commitment, the data comes as no surprise.
No new housing projects were sanctioned in Noida between 2016-17 and 2021-22. Officials said some new projects have been approved this fiscal year, which have not been factored in. Neither are 46 residential projects sanctioned under the Sports City scheme in sectors 78, 79, 101, 150 and 152. Registries cannot happen here either because the licence conditions are not fulfilled till sports amenities, which were to be at the heart of a community of residential buildings, are built.
Though in Noida, Jaypee Infratech Limited's 15 projects in Wish Town, which has around 30,000 houses and has just emerged from a lengthy insolvency resolution process, have not been included either because the deal was signed with the Yamuna Expressway Industrial Development Authority (YEIDA).
Among the 89 projects that are defaulters, 15 are in the National Company Law Tribunal, the bankruptcy court. Unitech, originally promoted by the Chandras and now run by a government-appointed board, is the largest defaulter, followed by Amrapali, the completion of whose projects is being overseen by the Supreme Court. Fourteen of the 89 projects are of these two companies.
Unitech's dues, according to the data, amount to with Rs 9,760 crore – Rs 6,594 crore from projects in sectors 96, 97 and 98, Rs 1,754 crore from a project in Sector 117 with a sanction to build 3,784 flats and Rs 1,412 crore from projects in sectors 113 and 144.
Amrapali's dues are Rs 2,777 crore. The projects in the NCLT collectively owe Rs 4732 crore. Among them are leading names like Supertech, Logix, 3C and Ajnara.
The Noida Authority has uploaded these details on its website for the first time so that homebuyers can check the status of projects they have invested in. Officer on special duty Prasun Dwivedi said registries were not happening in several completed projects because the dues have not been cleared. He said around 3,500 registries have been done since April 1 last year. Before that, just 2,424 registries were completed in the 2021-22. Registries in the 2020-21 fiscal were badly hit because of Covid. But the picture wasn't rosy before it. In 2019-20, 1,500 registries were completed.
Noida Authority CEO Ritu Maheshwari said the data would be updated periodically. "It has been done to facilitate homebuyers and ensure transparency in group housing projects," she said.