MUMBAI: From April 1, Tata Power hiked power tariff for low-end residential consumers-up to 100 units monthly consumption-in Mumbai's suburbs by 23% and Adani Electricity 11%, latest orders of the Maharashtra Electricity Regulatory Commission (MERC) have revealed.
In the next financial year, 2024-25, low-end residential consumers of Tata Power with 101-301-unit consumption would face another hike of 23% and those in the 0-100-unit range, 38%, the order copy stated.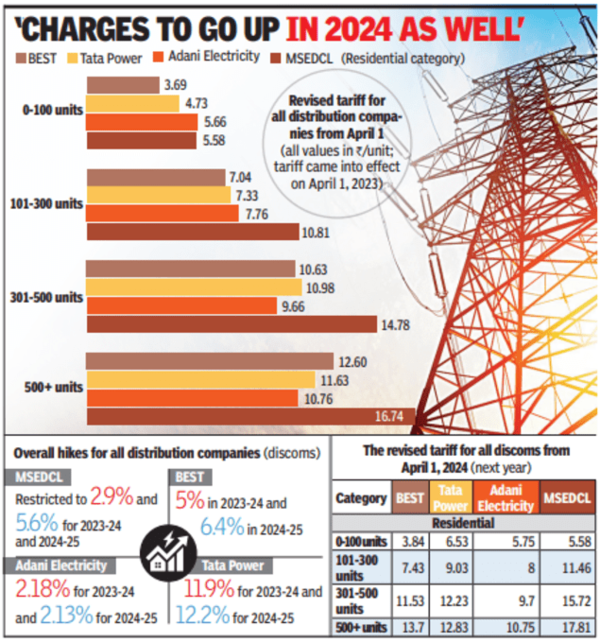 As for MSEDCL, which continues to have the highest tariff in the state, its managing director, Vijay Singhal, told TOI the power firm had the "lowest overall hike of 2.9%" this year. Consumer rights activist Pratap Hogade, though, alleged there were "hidden charges" and the actual hike could total 21.6%, with fixed charges in power bills increasing 10% this year and 20% next year and energy charges rising for several categories.
Singhal refuted the allegation, saying the MERC order clearly mentioned the overall hike would be 2.9% this year.
"I will appeal against the order in the appellate tribunal of electricity in New Delhi," Hogade added.
Another activist said a comparison of the current, 2023-24, residential tariff with MERC's own order for 2022-23 shows an 18-26% increase this year. MSEDCL chief spokesperson Anil Kamble rubbished this calculation, saying the hike for residential consumers will be around 6% this year.
The order copies, which ran into more than 1,800 pages collectively for all the four distribution companies (discoms), showed that BEST continues to have the cheapest tariff in Maharashtra for low-end residential consumers (0-100 units and 101-300 units). Adani Electricity now has the cheapest power tariff for high-end residential consumers.
Commenting on the hikes, a Tata Power official said: "In some categories the tariff may go up for consumers as per the recent MERC order. Based on our assessment, if customers' tariff gets impacted, it may get suitably adjusted in future due to optimised power purchase costs, etc. For this, we may reach out to the MERC with a fresh petition to modify the tariff so as to maintain competitive position in the market."
Adani Electricity MD Kandarp Patel said the overall hike for the power firm has been the least across the state-overall average hike of around 2% for both the years. "Our efforts towards increasing the share of renewables and optimising power purchase costs made this happen. This was despite an environment of volatile fuel prices leading to proposed tariff hikes across the country," he added.